Hawaiian architecture reflects the state's unique culture, complicated history, and the diverse people who live there. Within its broad framework are several variations of styles and designs connected to particular historical periods and era. The most popular is the classic, nearly ubiquitous plantation residence. An architectural style from the Hawaiian renaissance, plantation homes feature low profile wood frames and porticos and are easily distinguishable through their roofing due to their deeply bracketed eaves. This timeless and elegant style has continued to evolve through the years and has recently been rendered in more modern iterations.  
Hawaiian homeowners hoping to renovate their homes often find it a challenge to find a general contractor skilled in the very niche market of Hawaiian design, and Hawaiian weather patterns also put idiosyncratic demands on builders. Below is a list of 15 of the best contractors on these beautiful islands. They were chosen based on their skill, their media presence, and the quality of their previous projects. Several of these firms have their own showrooms and use numerous in-house services to keep the entire remodeling process under one roof. If you decide to take a closer look at these beautiful portfolios, you'll see countless exquisite and unique variations on the Hawaiian plantation style.
15) Two Perfect Construction Inc.
6820 Koolau Rd., Kilauea, HI 96754
Two Perfect Construction offers a full range of general contracting services and specializes in both custom home build outs and entire home remodels. It also provides demolition, drywall, fencing, and concrete installation work. Some of its more interesting services come in the form of its finish carpentry and metal roofing. Finish carpentry mostly entails completing the aesthetic appeal of a space. This involves installing baseboards, crown molding, windows, and stairs. Metal roofing, on the other hand, is a distinct roofing system that features highly resistant tiles characterized by their impermeability and longevity.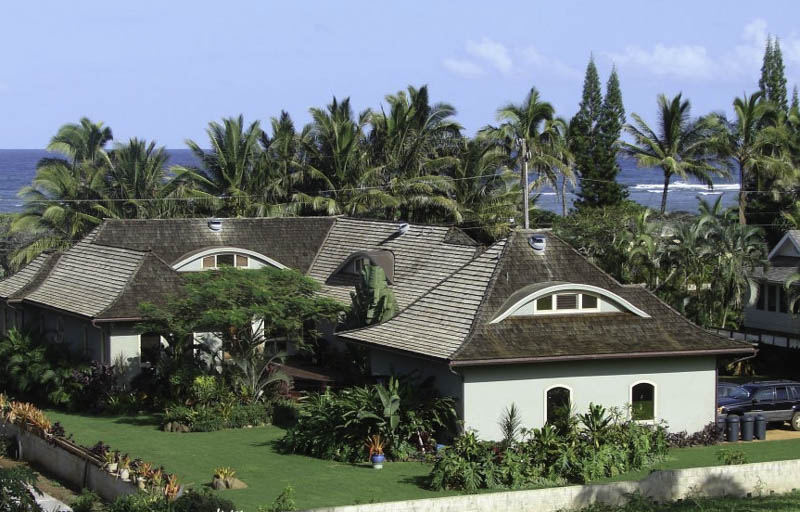 In terms of design, the firm often builds and remodels in the classic Hawaiian plantation style. This type of architecture is often distinguished by its wood frames, large porticos, and vertical plank siding. Homes adhering to this style are also often have bellcast roofs and are unusually wide, as you can see below.  
---
14) Bill Darrah Builders
360 Papa Place, Kahului, HI 96732
Since 1998, Bill Darrah Builders has been transforming homes of all sizes throughout Maui and has secured a reputation for itself due to its superb services. It holds the distinction of being the only firm affiliated with the National Association of the Remodeling Industry (NARI) in its area. It also emphasizes the importance of recognizing the difference between a remodeling project and a custom home buildout. Its process emphasizes the importance of working around a client's current living situation with minor disruptions and inconveniences, so as to not disturb a client's daily routine. The firm also knows how to work with a tight schedule and several other external factors that come with remodeling projects when compared with custom home build outs. 
The firm is led by its namesake and founder Bill, who serves as the company's full-time project manager and president. Prior to his establishment of the firm, he worked as a carpenter for several years and also has a background in commercial buildouts. Under his leadership, the firm has grown to specialize in several designs, namely, Hawaiian plantation style, farmhouse, as well as several modern themes.
---
13) R. Clary Builders, Inc.
970 N. Kalaheo Ave. Suite C-310, Kailua, HI 96734
Clary Builders offers residential and commercial contracting on a statewide level and has consistently delivered quality craftsmanship and excellent customer services throughout its years in the industry. It provides free estimates to first time and repeat clients and specializes in home additions, kitchen and bathroom remodels, and accessory dwelling units. It is also an expert in the design-build approach and is known for its custom homes and package homes. The firm's process emphasizes the importance of seamlessly incorporating a remodeled space's new designs with that of a home's overall architecture. 
The firm's portfolio is mostly comprised of bungalows and plantation-style inspired homes and spaces. The firm is led by Rick Clary who has been in the Hawaiian construction industry for over three decades now. He has assumed every role in the construction business from carpenter to project manager. Prior to his establishment of the firm, he also managed projects for two of the state's largest residential builders for over a decade, making him more than equipped to handle whatever task is laid out in front of him and his team.
---
12) H-1 Construction
868 Puuomao Street Honolulu, HI 96825
Established in 1996, H-1 Construction specializes in custom home build outs and large scale renovations. The firm has worked on numerous home additions as well as commercial tenant spaces and completes projects in collaboration with Fujita + Netski, a design-based architecture firm. Its team works closely with each of its clients throughout the entire process to ensure that their lifestyles are incorporated into their new spaces. For its excellent work and services, the firm has been featured in publications such as Hawaii Home + Remodeling. It has also been recognized with several awards. Most notably it has been recognized with multiple Grand Awards from the Building Industry Association (BIA) of Hawaii. 
The firm specializes in a vast array of designs. Its portfolio displays several plantation and coastal designed homes. Often its work is distinguished by its infusion of modern elements into these classic themes. The firm is also known for its woodwork and lively decorations. 
---
11) CV Construction
1095 Dillingham Blvd., Honolulu, HI 96817
With over 15 years of experience, CV Construction was established after its principal came up with the idea of meeting the building needs of the people of Oahu island. Since then, the firm has specialized in an extensive range of commercial and residential construction and renovation services. These services include group-up residential construction, home additions, entire house remodels, cabinetry and woodwork, and general millwork. Its record shows an impressive on-time completion rate, as well as several projects ranging from beautiful homes and condominiums to doctors' offices and a few restaurants. 
Using a design-build approach, the firm works closely only with its trusted architects and even offers clients free consultations and remodeling estimates. CV also has its own showroom in Kalihi where potential clients may get a firsthand glimpse of its skill and expertise. The firm was most notably a part of the team that constructed President Obama's 2010 vacation home in Kailua.
---
10) O'Donnell Construction
45-024 Ka Hanahou Circle, Kaneohe, HI 96744
O'Donnell Construction is an award-winning firm led by its founder and namesake Tommy, who has been a resident of Hawaii for over three decades. He established the firm in 1991 and together with his wife Pauline, has been leading the firm's team to remodel and construct some of the area's most beautiful homes. The firm is known for its sustainability practices and was distinguished with the Hawaii Green Built Award for its work on a Kahaluu home renovation worth over $500k. It has also been recognized for several other works and is a recipient of the 2008 Carl Reppun Award, often given to small contractors of great excellence by the BIA.
The firm is affiliated with several prestigious industry organizations such as the National Association of Home Builders (NAHB). Its team also makes sure to stay on top of the latest construction trends and technologies. In line with this, it has earned several certifications through the years including Certified Green Professional and Certified Graduate Remodeler. 
---
9) Design Trends Construction Hawaii
96-1185 Waihona St. Unit D1, Pearl City, HI 96782
Founded in 2001, Design Trends uses a highly streamlined approach through several of its very own in-house services. From design and construction to plumbing and fixtures, it offers turnkey solutions for its renovations and develops a personalized "start-to-finish" plan for each of its clients. Its full range of services includes entire house remodeling, ground-up construction, space planning, and several interior works. The firm also takes on commercial projects and even offers numerous materials and products of its own. The firm provides a wide variety of cabinetry and countertop options, as well as appliances and fixtures. 
The firm is led by Greg Liu, a builder with over two decades of experience in residential construction, remodeling, and interior design. He personally oversees each of the firm's projects to ensure the quality of its work and has led his team to numerous industry awards. Affiliated with NAHB and National Kitchen and Bath Association, some of these distinctions include a Grand Award from BIA and a 30 Under 30 Award from the NKBA from the firm's principal. 
---
8) HK Construction
905 Factory St., Honolulu, HI 96819
HK Construction is a full-range design-build contractor that has over four generations of professional in-house experience. It specializes in new home construction and extensive home remodels and handles every phase of a project. The firm promotes multi-generational homes and is also an expert in accessory dwelling units. Its designers work closely with each client until their desired plans are perfectly achieved and delivered at a lower cost in comparison to outsourced architects. The firm also offers free design-build seminars for homeowners hoping to learn more about the process itself and the benefits of renovations and remodels. During these seminars, potential clients may set up an appointment with the firm for an on-site consultation free of charge. 
The firm is affiliated with several prestigious organizations like the BIA. It is also a member of the American Society of Interior Designers and the American Institute of Architects, further proof of the firm's excellence in architecture and style. Additionally, the firm was also named as among "Hawaii's Best" for four consecutive years from 2014 to 2017. 
---
7) Greg Putman Construction
78-7036 Ola Mau St., Kailua-Kona, HI 96740
Extending its services throughout the Kona Coast, Greg Putman Construction is a locally-owned and operated firm that has been in the industry for over 15 years. The firm provides residential ground-up construction and entire house remodeling as well as planning and design services. It has its own in-house stylists, landscape designers, and contractors and also assists with budgeting and cost analysis work. The firm is led by its namesake Greg and his wife Nancy, who prior to their establishment of the firm owned a successful design-build firm in Southern California for over two decades before deciding to pursue their dream of living in Hawaii. Together, they maintain a very hands-on approach and guide the firm's clients throughout the entire process. 
Since its inception, the firm has built solid relationships with some of the area's best realtors and architects, making it equipped to work through design and material selection all the way to construction and project management. As for its designs, the firm portfolio displays several modern options, in addition to the traditional plantation inspired spaces. One of its most notable projects was a contemporary remodel of a 1970s condo featured in At Home magazine.
---
6) Dickinson General Contracting
74-5035 Queen Ka'ahumanu Hwy #3204, Kailua, HI 96740
From custom home build outs to large-scale residential renovations, Dickinson General Contracting specializes in modern architecture and is known for its stunning homes. Manned by a group of 13 experts and professionals, the team has worked on over 800 custom features since its inception. It is led by Tyler and Diandra Dickinson, both of whom grew up in the construction industry and have an extensive background in design. Tyler, who oversees the building aspect of the firm, has worked on over a hundred homes since he first started out in the construction industry as a teenager. Since the firm's establishment he has overseen the remodeling and construction of nearly 40 unique homes. Diandra manages the design side of the firm. Together, the two host HGTV's "Building Hawaii" where they showcase the firm's skill and expertise for construction and remodeling through projects of varying designs.
The following project best embodies the firm's craftsmanship. For this home, the firm made use of an open floor plan to emphasize its wonderful views. This project features a modern fireplace, a detached boathouse, and a luxurious kitchen complete with cherrywood cabinets and white quartz countertops. 
---
5) Atlas Construction
2222 Kamehameha Hwy., Honolulu, HI 96819
For the past 25 years, Atlas Construction has been building and remodeling some of the state's most beautiful homes. In 2018, it was voted Hawaii's number one general contractor. The firm is known for its full range of design-build services. The most common requests it receives often involve home additions and the firm has since come to be an expert in the area. It now specializes in multi-generational homes and has worked on numerous home additions complete with aging-in-place features. That being said, the firm is skilled in blending new designs and spaces seamlessly with a home's older, original elements. The firm also offers modern project management. Through the use of a cloud-based system, clients can get real-time updates on their projects and communicate with the firm's team 24/7.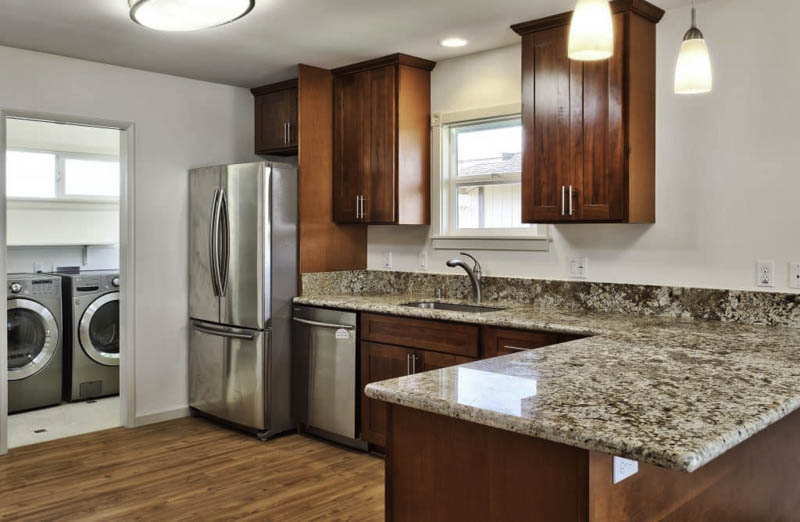 Unlike most companies, Atlas offers prospective clients virtual tours of its previous projects where they can take control and walk through every room of a particular home. For all of these excellent services, the firm has been featured in several publications like Star Advertiser and Honolulu Magazine. The firm has been a consistent name in the Best of Honolulu magazine's annual list of leading companies. 
---
4) Ko'olau Builders
3158-C E Manoa Rd., Honolulu, HI 96822
Manned by a team of second-generation builders, Ko'olau Builders was established in 2010 and has proven itself to be an expert in residential remodels, new construction, renovations, and home additions as well as commercial and federal contracting work. It makes use of the design-build approach, allowing to cater to every need of its clients. These preconstruction packages and in-house services enabled the firm to keep the entire process under one roof which saves clients time looking for extra subcontractors. Further, this process also keeps a project in line with its set budget months before any groundbreaking or renovation. 
From home inspections to in-house drafting and permitting, the firm handles every phase of a remodel and also works on outdoor living spaces, kitchen and bathroom renovations, as well as outdoor structures like patios, lanais, and decks. As for its style, the firm mostly designs in modern and contemporary themes. Its portfolio is a gallery of sleek and chic homes which often emphasize straight lines, right angles, and a neutral color palette. The firm is affiliated with the NKBA and BIA and has consistently been named among the state's "Fastest 50 Growing Companies" by Pacific Builders News. 
---
3) Homeworks Construction
2111 S Beretania St., Honolulu, HI 96826
Headquartered in Honolulu, Homeworks Construction provides some of the most affordable design-build services on the island. It has over two decades of experience and is comprised of a team of award-winning architects and construction professionals. Together, this team has completed over 750 projects throughout the firm's years in the industry and has showcased a specialization for custom homes and large-scale residential remodels. The firm also excels and focuses on small specific renovations such as bathroom remodels and kitchen overhauls. To get a better idea of its work, hopeful clients may visit one of its showrooms where they can personally discuss their ideas with some of the firm's designers.

The firm is led by Jim Byxbee, a journeyman carpenter with over 40 years of experience. Throughout his years in the business, he has worked on nearly 250 custom homes as well as the renovation of over 500 homes. He also served on the BIA's Board of Directors for eight years and currently leads two of its committees. The firm's excellent work has been featured in Qualified Remodeler and Pacific Business News. The firm has also been honored with several awards. Most notably and most recently, it was recognized with a Hawaiian Grand Award from the BIA for its residential remodeling under the $450k category. The project was a midcentury Hawaii Kai home which its team rebuilt from the ground up. 
---
2) MOKULUA High Performance Builder
1156 Luna'Apono Place, Kailua, HI 96734
MOKULUA High Performance Builder is a general contracting firm best known for its sustainability practices. Its work is often distinguished for its significant improvements in terms of energy and water efficiency, green materials, and classic island-inspired designs. The firm is led by founder Michael Fairall, who holds several green building credentials. He personally oversees each project and works closely with his team and was most notably named among Honolulu's "40 Under 40" by the Pacific Business News. The firm takes pride in being the first company to be recognized with a Hawaii Build Green Award from the BIA. The firm can also point to several other green building accolades it has won through the years, and it has been featured in multiple noteworthy publications like Architect Magazine, Hawaii Home + Remodeling, and Green Business Quarterly. 
The firm is also the proud recipient of numerous awards pertaining to both its custom home building and remodeling excellence. Several of its projects have been named Homes of the Year by award-giving bodies like the BIA and have been recognized not only because of the firm's acclaimed sustainability efforts but also for its gorgeous designs. The following project best embodies the firm's style. For this master bedroom, the firm employed several classic island elements in the woodwork. Modern touches were added here and there through the chosen color palette as well as through the infusion of straight lines and contemporary fixtures.  
---
1) Barker Kappelle Construction 
970 N Kalaheo Ave. Suite A306, Kailua, HI 96734
Founded in 2006, Barker Kappelle Construction is a multi-award-winning firm best known for its home additions, entire house remodels, ground-up construction, and occasional commercial work. It extends its services throughout greater Honolulu and has secured a solid reputation for itself not only for its excellent craft but for its effective, sustainable practices. At its helm are founders Phil Barker—an experienced and highly skilled contractor from New Zealand—and Brett Kappelle—a talented carpenter from California. The two offer over four decades of combined experience. Both are Certified Green Professionals and have worked on numerous noteworthy projects prior to their establishment of the firm, with Barker serving clients across London, the Cook Islands, and the Maldives.
The has been featured over 18 times in Hawaii Home + Remodeling Magazine and has affiliations with several major industry organizations like the American Institute of Architects. It is also the recipient of numerous BIA awards, most of which recognized the firm for its remodeling and its excellence in design.   
How can I find a contractor near me?
Read our latest articles on the best contractors in and near Hawaii. If you don't see your project type below, just let us know – we are happy to create a tailored recommendation list just for you.