The city of Indianapolis is well known for its southern sensibilities, basketball, use of the word "ope," and staging the biggest event in motor racing. But Indianapolis is so much more: it also has world-class attractions, distinctive cuisine, and beautiful houses. The city is a beautiful midwestern oasis for people looking to settle down. But having a permanent home comes with its own troubles, including the need to renovate areas in the house to spice the atmosphere up, fix design issues, or reinvigorate the place. 
Renovating or remodeling a home isn't easy, and if done incorrectly can be disastrous for homeowners. Our editors have created this list of the best bathroom remodeling contractors in Indianapolis, Indiana to assist clients with this issue. Our editorial team chose these firms for their awards, expertise, history, and experience. 
---
Case Design/Remodeling of Indianapolis
5912 N College Avenue, Indianapolis, IN 46220
Case Design/Remodeling of Indianapolis is a reliable firm that produces consistent results for its clients. As a high-class contractor, the firm's success in operations lies in its ability to incorporate comprehensive design solutions with concrete and practical construction. It employs a team of well-equipped professionals, including architects, engineers, and craftsmen, to deliver great results for each project. It provides a wide array of services—everything from simple rendering and simulations to complete project construction and additions. 
Since its establishment in 2003, the firm has earned certifications, including BAGI and IBA. It has also been featured in publications like Remodeling Magazine and earned a position as one of its Top 550 remodeling firms. 
The Spa Like Bathroom Designs project is a great concept for a fresh, new idea in bathrooms. Starting with the layout, the firm positioned all the fixtures to occupy the space in a smooth, accessible manner while expanding the shower area. Natural elements colors and materials create the feeling of a relaxing resort spa at home.
---
Corinthian Fine Homes
2121 E 56th Street, Indianapolis, IN 46220
Corinthian Fine Homes excels when it comes to both service and guidance. When handling its clients' projects, the firm provides the kind of professional guidance that leads to functionality and feasibility. As a result, Corinthian is a multi-award-winning firm—the recipient of the Chrysalis Awards for both regional and national categories. It has been operating for over two decades and continues to demonstrate its capabilities in building and remodeling while also advocating for environmentally stable practices.
This featured project is a Dated Master Bath that underwent a contemporary facelift. In order to keep up with the changing times, the firm decided to work with the client to renovate a 1980s bathroom. The firm was able to transform the old area into a space that features modernized touches. The services included a reconfiguration that improved the efficiency of the pre-existing layout. Functionality increased; storage was added. Fixtures, decor, and other elements paved the way for a gorgeous new master suite bathroom.
---
Chateau Kitchens & Home Remodeling
301 East Carmel Drive, Carmel, IN 46032
Chateau Kitchens & Home Remodeling Acting is a full-service contractor with a tremendous knowledge base and a long list of positive testimonials. This premier firm has a dedicated team that brings varied specialties into its contracting arsenal and qualifications. Despite having only 17 years of official business, it has a collective experience of several decades. These professionals are designers, craftsmen, installers, and other remodeling specialists who all shine in their respective fields. Satisfied clients vow that Chateau Kitchens & Home Remodeling is more than capable of remodeling a space to match their desired styles and standards.
Masthead of Geist Harbours Master Bath Remodel highlights the firm's proficiency in bathroom remodeling and its reputation for creating loyal clients. This project was provided for a repeat client—they were satisfied with the firm's prior work on their kitchen. Expecting the same quality for the results, the clients were yet again pleasantly surprised with the finished bathroom. The firm made over the area by replacing the fixtures with elements that maximized the given space and uplifted the atmosphere. Its features nos include a standing tub instead of a garden tub, an added window for more natural light, and minimalist colors that create a comfortable, cozy atmosphere.
---
ACo Flooring, Cabinets, Kitchen & Bath Remodel
8100 E 106TH Street, Suite #130, Fishers, IN 46038
With a passion for assisting clients and a mission to help people connect through the spaces it develops, ACo Flooring, Cabinets, Kitchen & Bath Remodel shines as one of the top remodeling contractors in the area. Using a comprehensive set of techniques and strategies, the firm is able to provide well-rounded services and comfortable spaces for its clients. Its professional work ethic, dedicated performance, and all-around capabilities make it a top candidate for clients looking for a complete set of bathroom remodeling services. The firm has earned NAHB, BAGI, and IBA accreditations for its efforts.
Showcased here is the Ramsey Master Bathroom Remodel, a beautifully designed, neutral bathroom with a fresh atmosphere. The area uses a dominantly white color scheme contrasted by subtle hints of beige and brown in some of the surfaces and fixtures. Its transitional style includes a freestanding tub, paneled cabinetry, glossy countertops, and a pair of undermount sinks. It also has a few light entryways to bring more natural light to its simple, effective layout.
---
Central Construction Group, Inc.
8481 Bash Street, Suite #1500, Indianapolis, IN 46250
Established in 2009, Central Construction Group has operated within Indianapolis for over 13 years. During that time, it has had the opportunity to develop itself as a remodeling firm and built a reputation as Central Indianapolis' premier contractor. As a firm that focuses on remodeling, it has a variety of services that range from a simple renovation of a single area to complete home makeovers. It has intensive management for its projects, from pre-planning to production, and always carries out premium-quality services. It is a highly sought-after contractor, yet its prices remain competitive.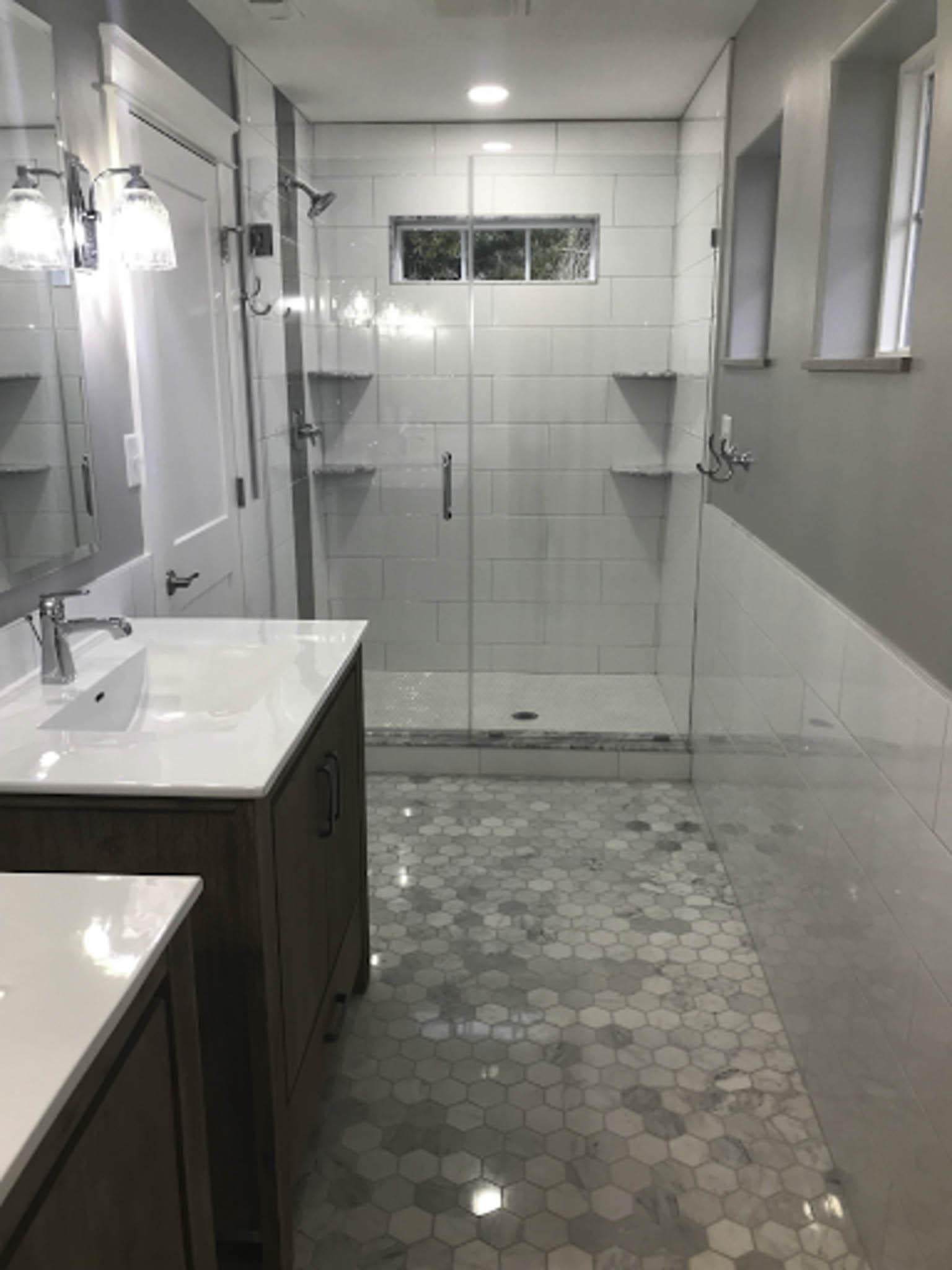 Classic Master Suite Remodel is a traditionally styled bathroom with elements of a trendy design. With an achromatic scheme that is complemented by brown tones, the area has a calm, balanced atmosphere. This mid-sized suite has porcelain flooring with intricately patterned tiles that support the alcove shower area's surfaces and details. It has the appropriate utilities, including sufficient lighting from the integrated light system on the ceilings and windows, integrated sinks, and cabinets that provide ample storage space.
---
WrightWorks, LLC
5207 North College Avenue, Suite #1, Indianapolis, IN 46220
WrightWorks, LLC is a one-stop-shop for clients looking for the full range of contractor or construction services or simply design inspiration. The firm is led by Christopher Wright, one of the most prominent figures in the remodeling industry; he has a great background and a strong performance record. Individually, Christopher has a large portfolio of projects completed throughout the Midwest; he even built a reputation as one of the leading experts in the field. He manages the firm's projects and delivers exceptional results on each project. The firm has earned prestigious awards, including the Chrysalis Award for Remodeling and being named to the Remodeling Big 50.
Featured is the Meridian-Kessler Master Bath Remodel, a huge renovation project for a master bathroom in the area. Since the home features a predominantly historic theme, the firm decided to continue that effect on the bathroom; the result is a stylish and relaxing space that offers privacy. The bathroom features traditional elements in the wallpaper, assorted tile patterns, and ornamental details that are incorporated into the walls and fixtures across the area. It is also a mid-sized bathroom with a blend of artificial and natural light, so users can enjoy the balance between the two.
---
Morgan Construction, Inc.
11951 E 30th Street, Indianapolis, IN 46229
What separates T. Morgan Construction from the other contractors in the industry is that it puts heavy emphasis on handling projects on its own. It employs its very own team of handpicked experts that are loyal to the firm and its clients—not subcontracted professionals. As result, the firm is able to deeply connect with its clients and provide frequent updates. It considers customer-company relationships a key factor in any project's accomplishment and focuses on building healthy, lasting connections with its clients. The firm is fully registered, licensed, and bonded in the state of Indiana.
A Master Bath Remodel in Shades of Grey demonstrates the firm's dedication to its craft. This gorgeous bathroom incorporates two styles—a prominent farmhouse style with the choice of materials and overall feel, but with hints of modernism to make the design pop. Using varying tones of gray, the space offers a tranquil atmosphere, which makes it all the more suitable for alone time. It has a bathtub, a shower area, and an incorporated sink for multipurpose space.
---
The HomeWright, LLC
Carmel, IN 46082
The HomeWright, LLC takes pride in its ability to create spaces that are creative while maintaining practicality. The firm ensures that all of its projects are as equally functional as they are innovative, and believes that this balance is what produces successful services. Its construction process utilizes cutting-edge technology to precisely form concepts and plans for any project. It is able to assist clients throughout Indianapolis and the surrounding area. The firm is accredited with NARI, which means it has extensive knowledge of remodeling and has actively participated in programs to enhance its craft in the industry.
The Master Bathroom & Bedroom is a two-in-one project that included renovating both a mid-sized bathroom and a bedroom suite. The firm opted to go for a transitional look, allowing the space to retain its original traits while keeping up with modern trends. Doing so combined ceramic tiled flooring and quartz countertops into a single space. The design is simple with its white color scheme and contrasts of darker hues. It features flat-panel cabinets, undermount sinks, and a built-in vanity.
---
Emergent Construction
202 East 23rd Street, Suite C, Indianapolis, IN 46205
Emergent Construction is defined by its work philosophy and practice of creating buildings that adhere to their location's history and pay tribute to its context. With cost-effective prices and flexible time schedules for their clients' convenience, interested users can rest assured when calling the firm for contractor services. It has over a decade of experience and has served as a full-service firm for 15 years. Its incredible performance has been repeatedly recognized in reviews and it has built a large client base. Clients are provided with a personalized account that lets them keep close track of the construction process.
Sycamore Springs Kitchen & Master Bath Remodel exemplifies elegance—it exceeds the standards of design for bathrooms. It features elegant ornaments and a lavish, light theme. The generous size of the layout enhances its grandness, with plenty of space for the shower, a mirror-and-sink combo with corresponding utilities and storage, a toilet, and a bathtub. It also features an airway vent system, to support the space. An additional room was added and connected to the bathroom for a beautiful view.
---
Gettum Associates
4984 W Smith Valley Road, Greenwood, IN 46142
As the only firm on this list that has a work history of over 35 years, Gettum Associates is a pioneer in the industry. Its work process involves helping a client visualize their dream space and executing a series of thorough services to actualize that same space. This personalized approach results in successful, tailored projects that naturally connect with their users. Since 1987, the firm has been exceeding client expectations by delivering outstanding spaces and breakthrough solutions. The firm has been certified by NAHB, Greater Greenwood Chamber, NKBA, GuildQuality, the Builders Association of Greater Indianapolis, and NARI.
This Master bathroom remodel is located within the city and embodies Gettum Associates' principles and ethics in project management. This unique bathroom stands out because of its retro theme. The brick section between the mirror and sink features a darker tone that provides a pleasing contrast with the bright blue The relatively small size packs the fixtures into a small space, but the layout ensures that it avoids clumping. The placement of the window allows natural light to shine directly along the length of the bathroom.