A general contractor has many responsibilities. They should provide round-the-clock service and accommodate the client's needs. They should be proficient and efficient in the field, saving time and money with smooth savvy. A quality contractor also fosters a positive work environment for the convenience of both parties.
Need help building a home? This list features the best general contractors in Fairfax, California. These names excel not only in building, design, and management but also in customer service. The companies also stood out to our editorial team for their portfolio, awards, and feedback.
---
RSP Group Inc
39 Belmont Ave., Fairfax, CA 94930
RSP Groups has been one of Fairfax's preferred general contractors since 1970. The firm strives to create projects that meet the industry and the client's standards through a collaborative approach from start to finish. The company also uses eco-friendly materials and methods for sustainable structures.
President Paula Basker and her team are well-versed in construction and management services. Their expertise includes building, renovating, and remodeling for a wide range of markets, including private homes, commercial spaces, public facilities, and exterior structures.
The featured project is a Mid-Century Revival Living Room completed by the firm. It is a part of a residence in a San Francisco neighborhood that incorporates tranquil and natural aesthetics with hints of contemporary charm. The living room serves a dual purpose—it's a space to relax and a place to entertain guests. The open design provides scenic views of the valley; clear glass windows allow copious amounts of natural light in during the daytime. Other notable details include a vaulted cedar ceiling and a wall with a home theater, fireplace, and built-in display shelves.
---
Blair Burke General Contractors
710 C Street, Suite 216, San Rafael, CA 94901
Blair Burke General Contractors is a San Rafael practice known for crafting modern spaces and providing quality service while doing so. The firm's comprehensive process focuses on meticulous attention to detail and design, which delivers exceptional structures. Commendations for the company cite its ability to complete projects on budget and on schedule.
As one of San Francisco's most seasoned contractors, the firm has completed over 30 year's worth of projects that include everything from custom homes to interior remodels. Its standout work has even led to several home features in the American Institute of Architects (AIA) San Francisco Home Tours.
Owner Blair Burke has a diverse catalog of homes in California. One example is this Fairfax project, a residential property built in the middle of lush terrain. Surrounded by tall trees and local shrubberies, the soot-colored dwelling simultaneously blends in and pops out amid the surrounding environment. The one-story abode features large glass windows and sliding doors that bring in natural daylight and offers a nice view of the expanse.
---
G Family Construction
615 B St. Unit 1B, San Rafael, CA 94901
G Family Construction is a design-build practice that has served California for two generations. The firm operates through four subsidiaries, each one focusing on a different specialty. Its expertise spans design, construction, landscaping, and electrical work.
The firm's history dates back to over 30 years ago when James Grabham started the Grabham family's original practice. His commitment to high-quality craftsmanship and strong work ethic lives on through his sons David and Jon Grabham. The two brothers established their company in 2001 and continued James's legacy through exceptional projects and a solid dedication to craftmanship.
The builder's dynamic portfolio includes modern homes, interior remodels, and classic manors. The featured space is a Ross residence with contemporary additions and landscaping. Updates to the property include a new kitchen and dining room, bathroom, hallway, children's bedrooms, and a sitting room. Outside, the firm built a new pool house with Fleetwood doors. New additions to the yard also include new bluestone tiles and artificial grass.
---
Floyd Construction Inc.
714 C Street #207, San Rafael, CA 94901
Floyd Construction is a San Rafael builder that specializes in residential, commercial, and landscaping projects. Its services range from small remodels and repairs to building new homes. The company uses a collaborative process that prioritizes strong relationships with homeowners. These bonds usually extend even after the project, turning clients into long-term business partners.
Founder Joe Floyd has been a licensed contractor since 1978, which is the same year he started his practice. The practice put down roots in Marin County in 1998, a community it serves to this day together with the Greater San Francisco Bay Area. Floyd runs a team of seasoned and dedicated professionals who deliver quality craftsmanship and service from the project's inception to its completion.
The firm's veteran crew has a stunning portfolio of interior and exterior spaces in California. This Modern Farmhouse is a showcase of their construction prowess, built in partnership with Chambers and Chambers Architects. The pristine palette features dove-colored surfaces in the living room, bedrooms, kitchen, and baths. The simple and ergonomic layout also has wide spaces that add an open feel to the abode.
---
Schalich Brothers Construction
85 J-Galli Drive, Novato, CA 94949
Schalich Brothers Construction is a family-owned residential and commercial builder based in Novato. Established in 1980, the firm provides custom home construction and remodeling services to clients in Marin, Sonoma, and San Francisco Counties.
Co-founder and principal Jim Schalich is the recipient of the 2020 Peter Arrigoni Building Community Leadership Award from the Marin Builders Association. This accolade is a testament to his effective operations, an infrastructure that upholds quality and service throughout every project. As a Certified Green Building Professional, Jim also practices sustainable building methods in the field.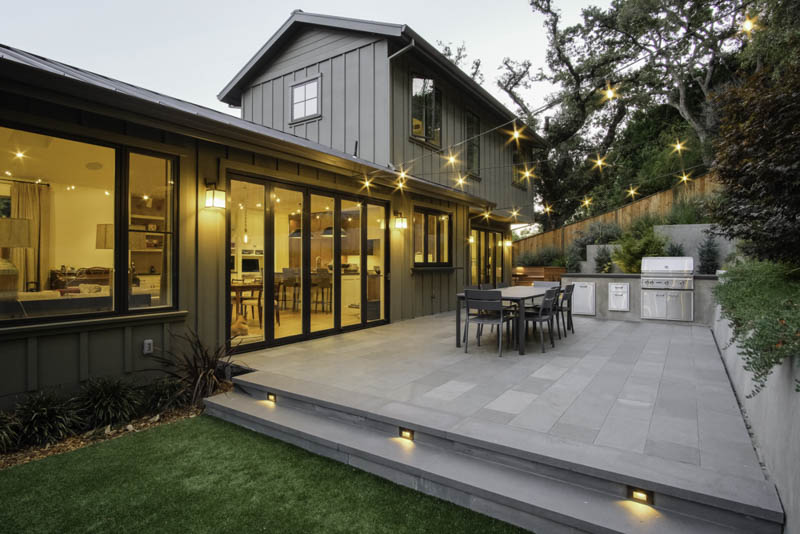 The Greenbrae Flats is a remodeling project completed in 2018. The 2,136-square-foot property combines elements of traditional living with aesthetic hints of modern design. Wood is prominent in the structure's make-up, present in the walls, furniture, patio decks, and exterior sidings. Contemporary fixtures and decor balance the design, which combines stylish conventions with grounded ones. The two-story also sits on a lot filled with plants and trees, adding a verdant charm to the abode.
---
Kerr Construction, Inc.
15 Woodland Avenue, Suite F, San Rafael, CA 94901
Kerr Construction has a positive reputation due to its client-centric approach to building and management. The general contractor has won commendations for its fair pricing, collaborative service, and strong craftsmanship for residential remodels and new construction projects. Its ability to elevate substance and style in every living space is another reason why it's one of the preferred companies in the area.
Jeff Kerr started the practice in 1983 to provide quality construction to residents of the Greater Bay Area. He is a Certified Green Building Professional whose standout work on a Nicasio custom home won a Platinum-level award from the US Green Building Council's Leadership in Energy and Environmental Design (LEED) for Homes.
One of the firm's notable projects is this Fairfax Cascades Whole House Remodel. The San Francisco craftsman features a rustic atmosphere with earthy tones and a muted palette. The spaces exude high visual energy: each room is brimming with fixtures, furniture, and stylish decor. Plants are also prominent inside the house, serving as functional add-ons to the sustainable abode.
---
Landmark Builders
42 Digital Drive, Suite 11, Novato, CA 94949
Landmark Builders is a general contractor that has been providing residential and commercial projects since 1985. The full-service construction firm serves clients in Napa, Sonoma, Marin County, and the San Francisco Bay Area.
President Jaimie R. Stewart oversees day-to-day operations. Mr. Stewart has been a local builder since 1976 and he is a certified Green Building Professional by Built It Green. Under his leadership, the company made a name for its strong building prowess, streamlined management, and quality customer service. The firm's environmental efforts stand out as one of Landmark Builders' signatures.
This San Rafael Eichler Renovation is a million-dollar project completed in 2019. The Mid-Century style residence features a stylish entryway made of wood and brick. A toned-down theme is prominent in its design, and a minimalist layout organizes the living room, kitchen, office, and dining area. A Zen quality emanates from the halls and surfaces, its plain and calming atmosphere ideal for a relaxing getaway. Outside, a lounge and pool inspired by 1960s design provide a versatile space for swimming alone or entertaining guests.
---
Jungsten Construction
495 Miller Avenue, Mill Valley, CA 94941
Jungsten Construction is a client-centric practice known for its high-quality projects and collaborative management process. Every project strives to elevate living conditions through functional design and comfortable spaces that fit the owner's lifestyle. The firm's varied portfolio of projects includes custom homes, remodels, and additions.
Jeff Jungsten, the firm's president, is a sustainable builder with Advanced Certification as a Green Building Professional. The full-service general contractor has been serving the Bay Area since 1987. He and his team are well-versed in a wide range of services. Those services include design development and preconstruction, sustainability planning and integration, small-special projects, and service and maintenance.
The Mill Valley Modern is a new residential project from 2016. The project is a collaboration between Michael Rex Architects and Holly Hollenbeck of HSH Interiors. Wood plays a dominant role in its make-up, which extends from the floors and sidings to the furniture and decor. It features trendy style choices like teal accents and playful fixtures that liven up space. Floor-to-ceiling glass walls on both levels provide scenic views of the environment and also bring plenty of natural daylight inside.