San Jose, California, has one of the highest average family incomes. With this reputation, many want to move to the city and in result, the area can become overcrowded. Housing solutions like multifamily buildings and projects address this concern. Nowadays, these types of homes exist alongside the area's more known estates and manors. With several services and facilities, multifamily projects are designed to accommodate more residents without sacrificing living quality.
This list presents the best multifamily architects in San Jose. These firms create visionary homes that combine comfort and aesthetics. We chose them based on awards, press recognition, portfolio, principal background, and client reviews.
---
HPC Architecture, Inc. 
2216 The Alameda, Santa Clara, CA 95050
HPC Architecture has established a reputable name in the architectural industry in California. With over 30 years of service and countless corporate clients all over the state, it has proven itself a reliable and trustworthy firm for top-notch service and quality. The firm is part of the American Institute of Architects (AIA) and the AIA – Santa Clara Valley Chapter, and has three senior architects who together have over 100 years of architectural experience in California. The firm is led by president Steven M. Cox, AIA, National Council of Architectural Registration Board (NCARB), and Sherry Cox, Associate A.S.I.D. and Interior Designer.
The firm's vast portfolio provides a look into the firm's versatility. It has designed everything from corporate interiors and campuses to retail spaces and medical buildings. In the multifamily sector, one of its upcoming projects is the Empire Garden Apartments in San Jose.  This building's design exhibits a sleek yet simple style while maintaining the essence of a residential environment. Ranging from multi-tenant buildings to well-executed offices, HPC Architecture does not fail to showcase its talent and passion when it comes to its line of work. 
---
OJK Architecture and Planning
97 E. St. James St. Suite 42, San Jose, CA 95112
Innovation is the foundation for OJK Architecture and Planning's success among homeowners, residents, and organizations. Jerome King, a Fellow of the American Institute of Architects (FAIA), founded the company in San Jose in 1981. Sarah Vaccaro, Leah Bayer, and Kate Conley took over the role as the new owners in 2021, 40 years after its founding. They lead the firm by continuing to raise the bar of high-performance and affordable housing design to ensure that its buildings and clients grow in the future. In the last few years, OJK Architecture and Planning has been featured in Silicon Valley Business Journal, The Architect's Newspaper, Architect Magazine, and World Architecture News. 
This firm attempts to create visually appealing spaces that are also technically superior and functional with its surroundings. Its concept remains the same whether working on homes, educational buildings, or historic restoration—producing a meaningful design that operates well. A prime example of this is the Gish Apartment located in San Jose. With the building's two-by-six exterior stud walls that allow for extra insulation, the Gish Apartment initiated the firm's innovative designs for energy sustainability. The Gish Apartment is currently a Leadership in Energy and Environmental Design (LEED) platinum, gaining awards like the 2016 Merit Award by the AIA Santa Clara Valley Chapter and the 2009 AIA Sustainable Design Award. 
---
MBH Architects
960 Atlantic Ave., Alameda, CA 94501
MBH Architects is a renowned architectural company located in a LEED Gold office that offers a full range of services for its clients. The firm continuously employs creativity and professionalism with its design team since it was founded by three ambitious architects in 1989. For 32 years, the company has pioneered excellence, communication, and delivery in its contemporary designs. John McNulty, one of the firm's founding principals, leads many of MBH Architects' significant projects. As a member of the advisory council for SPUR, John and his team of architects are responsible for the firm's diverse and intricate designs that have been featured in Architectural Digest.
The firm's portfolio highlights a comprehensive catalog of projects all over California, from Sonoma to Berkeley. Among these buildings are multifamily designs that have garnered awards such as the Best Affordable Housing Community in 2020 and the 2018 Award of Merit for Best Interior Renovation. One of the firm's notable projects is The Domain. This housing best showcases the firm's expertise in multifamily housing projects and its ability to provide a modern take on multifamily structures. With 528,112 square feet and 444 units, the firm takes incredible pride in this project that delivers an integrated approach to design that is economically, environmentally, and socially appropriate.
---
Dahlin Group Architecture Planning
5865 Owens Drive, Pleasanton, CA 94588
Dahlin Group Architecture Planning (DAHLIN) is a firm that exhibits a range in designing residential, commercial, institutional, and civic projects. Through more than 150 ethnic professionals collaborating with developers, municipalities, and private clients, DAHLIN became a diverse architecture and design firm. Doug Dahlin founded the company in 1976, and since then, the firm has evolved its designs to be innovative, authentic, and achievable. Doug, along with the firm's president, Nancy Keenan, and their team of architects all successfully support client relationships. The firm aligns its knowledge with its clients' expectations and goals by listening and effectively working to create sustainable communities and urban settings. DAHLIN has been featured in Cision, PRWeb, and ArchiEcho due to its many mid-century modern and contemporary designs. 
DAHLIN's creative design has fueled development and diversity. Its ground-breaking architectural concepts for community planning and vertical urbanization have resulted in projects of all sizes worldwide. The Alum Rock in San Jose is a perfect example of this. This design became the first affordable housing project in the city, with seven stories and 111,072 gross square feet. The project's modern design, affordability, and overall success were given the 2019 Gold Nugget Grand Award for Best Supportive/Transitional Housing.
---
AO
144 N. Orange Street, Orange, CA 92866
AO Architects is an award-winning architectural firm known for its design and expertise in multifamily and commercial structures. Founded in 1974, AO is a full-service architectural, project management, and design business. With over 45 years of experience in architecture and construction, working with America's leading Multifamily, Retail, Commercial, and Mixed-Use real estate developers, the business is widely recognized in Southern California. 
Jack Selman, the CEO and managing partner of the firm, leads his team of skilled architects and designers to capture the vision of the firm's clients. Through collaborative processes and effective communication, the company has consistently delivered intelligent and notable designs. California News-Times, Daily Irvin News, and Times Media Group featured the firm in recent years.
The firm's portfolio showcases remarkable designs, including the Vici and The George. These designs have been awarded the 2020 Gold Nugget Award for Best Mixed-Use Project and the 2020 Gold Nugget Award for Best Indoor Lifestyle for a Community, respectively. The firm's multifamily expertise also presents a notable structure that is the 1st and Rosemary. The project, distinguished by stunning canopied rooflines and clean, contemporary elevations, optimizes construction efficiencies to provide exceptional accommodation and opportunities for meaningful community engagement. 
---
BAR Architects
901 Battery Street Suite 300, San Francisco, CA 94111
BAR Architects is one of California's oldest running architectural firms, providing high-quality designs since 1966. It combines a tight-knit boutique studio environment with large firm resources to create tailor-made design solutions. It serves a variety of markets, from custom home building to commercial spaces.
The company has appeared in a wide array of publications including the San Francisco Business Times, The Weekly Calistogan, and Deadline Hollywood. The firm is a registered San Francisco Bay Area Green Business that incorporates sustainability into its design process. Its mission is to create relevant and engaging surroundings, as evidenced by its broad portfolio. 
AIA Chris Haegglund, the firm's president and CEO, implements timelessness, simplicity, and an appreciation for traditional and modern architecture in his team's designs. One of the firm's notable projects is the Santana Row. This residential and commercial district is 42 acres in size and is built on primarily intricate craftsman design for the residential area. It also features 50 shops, 30 restaurants, a 215-room boutique Hotel Valencia, two parks with outdoor seating, 615 rental homes, and 219 privately-owned condos. The Santana Row is one of the many projects that successfully and elegantly blend a diverse range of components with extremely desired yet sustainable multifamily housing.
---
David Baker Architects
461 Second Street Loft c127, San Francisco, CA 94107
David Baker Architects is a progressive architecture and urban design firm based in San Francisco, Oakland, and Birmingham, Alabama. Since 1982, DBA has continuously designed affordable, resilient human-centered housing, and its creative staff is well-versed in the social, political, and technical dynamics of introducing new designs into various metropolitan settings. Founded by David Baker, FAIA, the collaborative firm is helmed by a diverse leadership team and is driven by the core founding principles of urbanity, sustainability, and
community.
DBA's designs combine social concern with a signature design approach, resulting in distinctive, high-quality developments that foster a strong sense of belonging and engagement. DBA's progressive and creative work has earned more than 450 local, regional, and national design awards, including the 2020 AIA California Firm Award. Many of its multifamily and affordable housing projects have been certified LEED Platinum.
One notable San Jose project includes Mabuhay Court, senior housing named with a Tagalog word that means "joy of living." The project was developed in tandem with the senior-serving Northside Community Center and has won several awards, including the 2004 Gold Nugget Award for Best Affordable Community and the 2011 AIA Design for Aging Review Merit Award. Currently under construction, the firms' Page Street Studios will offer 81 studios for low-income individuals and couples—including 27 homes reserved for chronically homeless households—with easy access to public transportation, markets, and shops.
---
Studio E Architects
2258 First Avenue, San Diego, CA 92101
Studio E Architects, founded in 1987, is a renowned San Diego-based design cooperation directed by principals Eric Naslund (FAIA), John Sheehan (FAIA), Mathilda Bialk (AIA), and Maxine Ward (AIA). Under their management, the firm has expanded its team and services to communicate with and serve clients' unique and innovative designs. Its design quality has been acknowledged with numerous design accolades, including five National Honor Awards from the American Institute of Architects. The firm's design team succeeds in understanding the project by its drive to grasp the area, employ originality, and exhibit creative optimism.
The firm's diverse portfolio—housing, mixed-use, civic, institutional, and urban planning projects— has appeared in national and international design journals and publications. These include the San Jose Spotlight, Affordable Housing Finance, ABC 10, and the San Diego Union-Tribune to name a few.  A noteworthy multifamily structure is the Met North located in San Jose—developed by Charities Housing. The Met North is an affordable housing complex with a diverse and bustling frontage along a commercial route opposite a new "big-box" supercenter. The Met North is a prime example of the firm's ability to incorporate contemporary designs of playful colors and different materials. 
---
Humphreys & Partners Architects, L.P.
811 W 7th St., Los Angeles, CA 90017
With 30 years spent in the industry, Humphreys & Partners Architects has long evolved into a global team of specialists dedicated to providing creative and original designs. The firm takes great pride in being a developer's architect—designing solutions that maximize efficiency, optimizing density, outperforming competitor buildings, and ultimately boosting net operating revenue. Robin Billerbly leads the firm in creating custom architectural designs for California and the world. Robin, with his team, is committed to excellence and client-responsiveness in succeeding with the firm's projects— recognized by its multiple accolades and awards. Humphreys & Partners currently have four Gold Nugget awards, three Best In American Living awards, three Aurora awards, and more. 
The firm's portfolio of projects in 49 states and internationally displays a thorough grasp of the local and regional concerns determining project success. Their designs have been featured in Business Insider, CNN Tech, and CNBC. The multifamily design is at the helm of the firm's expertise, and The Domain is a remarkable case of the same structure and design. It is a four-story building with a rooftop terrace over one level of on-grade parking located in San Jose. The sleek and modern design of the multifamily structure represents the firm's progressive nature. For this, the firm earned a 2012 Structures Award of the Silicon Valley Business Journal for Best Residential Project. 
---
KTGY
1814 Franklin Street Suite 400, Oakland, CA 94612
Founded in 1991, KTGY Architecture + Planning is an international full-service architecture, branding, interiors, and planning firm that delivers innovative ideas, creativity, and attention to detail. The firm spans seven offices and studios around the world. KTGY values collaboration and excellence and ensures that its clients and communities receive the best it can offer regardless of building type or location. 
Jill Williams, AIA, is the principal of the award-winning architectural practice. Her significant design experience includes award-winning projects from across the country as well as industry ties. Under her leadership, she has also developed an outstanding team that includes AIA, LEED Accredited, and NCARB certified designers with experience in various project design profiles. KTGY's projects are featured throughout numerous publications such as Builder Developer Magazine, Los Angeles Times, and Construction Dives.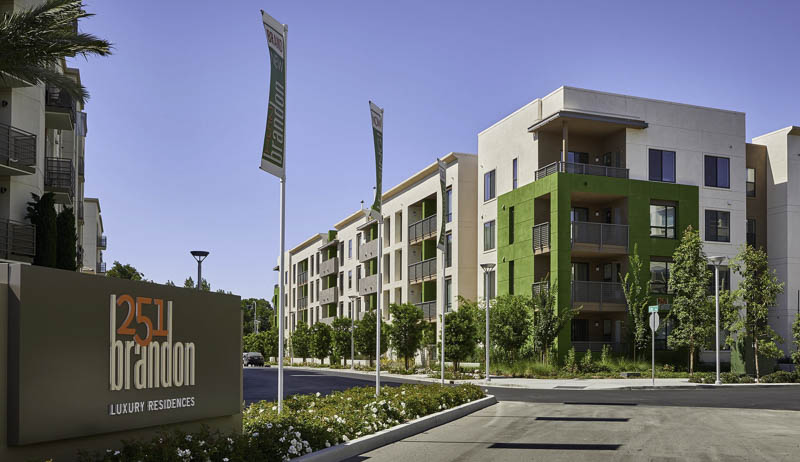 KTGY's architects and planners blend extensive picture opportunities, current sustainable methods, and exquisite design standards to create experientially driven settings and developments with long-term value. The firm is currently a 13 Gold Nugget Merit Awards holder, a BALA platinum bearer with seven other awards, and owner of four The National Awards. An exceptional example of KTGY's multifamily design is the 251 Brandon Apartment located in San Jose. This well-known structure provides 271 units of excellent urban living. The four-story building makes use of the contemporary design to emphasize the structure's sustainability and novelty. As a result, the 251 Brandon Apartment was built to LEED Silver Standards, employing a state-of-the-art design for a multifamily building.